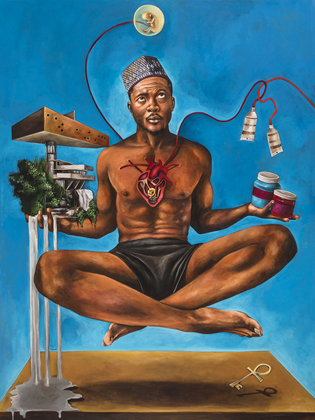 Over the past decade, Komi Olaf M.ARCH has become well known for his exploration of Afro-futuristic concepts within the disciplines of visual arts, Spoken word poetry, and Architectural Design. Working in painting, performance and virtual reality, the often Utopian themes expressed in his work have in common the artist's fascination with hybridity and the general intersectionality of culture and race through a technological lens. After Completing his Master of Architecture degree at Carleton University, Olaf began a career as a Visual artist in pursuit of finding a balance between painting and poetry as a form of expression to promote social critique, healthy dialogue, and creative thinking.
Olaf's work with prototypeD TEAM inc., an Ottawa-based collaborative design studio specializing in prefabricated homes, explores modular sustainable building solutions for affordable living in Canada and Abroad. His artwork has been commissioned by afrobeat legend Seun Kuti, TD Bank, the Italian chambers of commerce in Toronto, as well as numerous private collectors around the world.
Komi Olaf lives in Ottawa, ON and is a member the 2009 Canadian festival of Spoken word Championship team, The recipe.